FITMENT REQUIREMENT
The air cups will fit any brand coilovers, as long as they meet the requirements.
Please follow the steps below before ordering.

Max total car weight: 2000 kg / 4400 lbs
(Limited for 40- 45mm cups: 1750 kg / 3850 lbs)

FITMENT REQUIREMENT
The air cups will fit any brand coilovers, as long as they meet the requirements.
Please follow the steps below before ordering.

Max total car weight: 2000 kg / 4400 lbs
(Limited for 40- 45mm cups: 1750 kg / 3850 lbs)

STEP 1
Checking coilover clearance and springs
CLEARANCE
Make sure you have enough clearance around the coilovers, the air cups are 120mm in diameter, the fitting is 17mm. (110mm air cups available on request)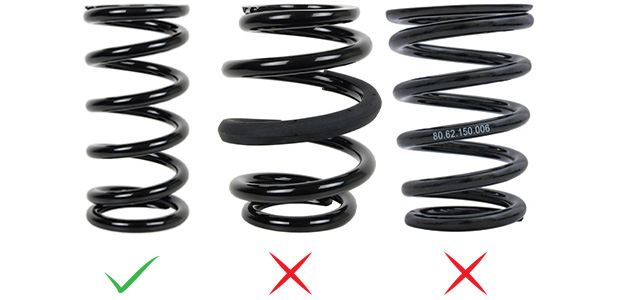 SPRINGS
The air cups can only be installed on linear springs, it will not fit on ''shaped'' springs as shown in the figure. In some situations shaped springs can be changed to linear springs.
DAMPER SHAFT
Measure the thickest part of the shaft, we strongly recommend to measure with a caliper.
Air cups are available for coilover shaft diameters: 12,5mm, 14mm, 15mm, 16mm, 18mm, 20mm, 22mm, 40mm, 44mm and 45mm.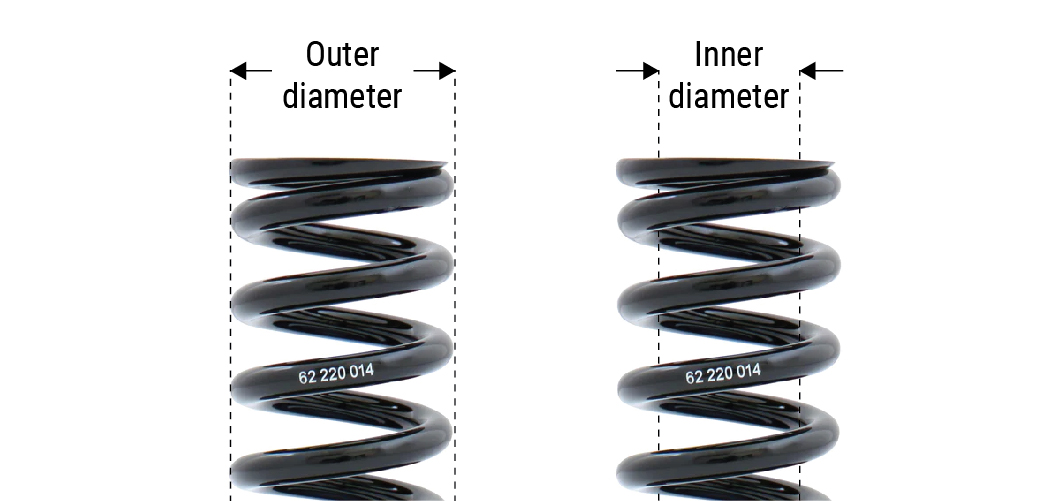 SPRING DIAMETER
Maximum outer diameter: 99mm.
Minimum inner diameter: 61mm. (57mm on request)

Maximum outer diameter for 110mm air cups: 89mm.
RIDE HEIGHT
In most cases the air cup will take between 20 and 30mm of height. The air cup itself is 20mm thick and with most coilovers the top hat comes on top of the air cup, this will take around 10mm. If there is enough thread left on the coilovers to lower the springs, it won't be a problem. If not, you will need to install shorter springs.
SPRING ADJUSTMENT
The lift from the air cups requires droop / rebound from the coilovers. If you don't have enough droop, the air cups can't lift the full 50mm. The damper strut simply will top out before achieving the full lift. If you're using the standard spring rates that came with your coilovers, it should be fine. If you're using higher spring rates we recommend to use helper springs to get the full lift.
WHAT IS DROOP?
Droop, also called rebound, is basically the amount of travel you have between ride height and full extension. Too much preload will decrease droop, we recommend to set a minimal preload. If you're using extreme high spring rates, higher than the original rates that came with your coilovers, the weight of the car won't compress the springs enough to create enough droop. This problem can be solved by installing helper springs, these will create enough droop for the air cups to lift.
CUSTOM REAR CUPS
Separate spring and shock
LIMITED APPLICATION
Custom rear cups are available for cars with a separate rear spring and shock. So far only available for the 350z platform (350z 370z, g35, g37, genesis coupe) and for BMW E90 / F30 / F80 series (E90/E91/E92/E93/F30/F32/F33/E82/F80/F82/F83/F87). Possible available for more cars, but not tested yet.


INSTALLATION:
The custom rear cup will take 30mm of height, If there is enough thread left spring perch to lower the springs, it won't be a problem. If not, you will need to install shorter springs. For the 350z platform, keep in mind that if you don't have a linear spring adapter yet, this also will take 30mm of height.

Recommended spring lengths:
- BMW E90 / F30 / F80 series: 180mm
- 350z platform: 160mm
FITMENT REQUIREMENT
- Linear springs needed. For the 350z platform you can use a linear spring adapter to install linear springs
- Minimal spring length used with custom rear air cups: 160mm
- Spring perch thread diameter: max 50mm (
Suitable spring perch
)
-
Minimum
spring inner diameter: 61mm
-
Maximum
spring outer diameter: 105mm
CUSTOM REAR CUP SPECIFICATIONS:
- Diameter: 130mm
- Height: 83mm
- Air cup stroke: 25mm (results in 40-50mm actual lift)
- Air cup thickness: 30mm